Sky Reach uses a safety system that allows you to move at your own speed, make route choices to set your own level of challenge and adventure. We've selected the best equipment to keep you safe and extra secure, even way up above the ground!
Minimum height:
1.5m for unaccompanied children
1.3m and above to be accompanied.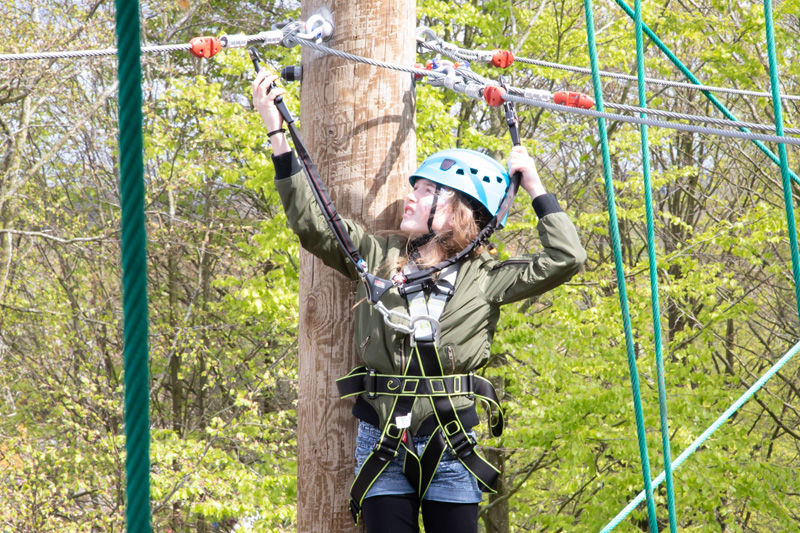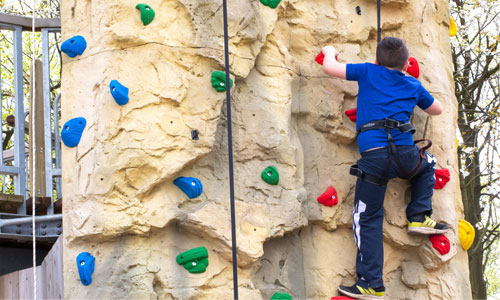 Climbing wall
Vertical fun and challenge. Work out how to climb up as high as you can before jumping off and smoothly lowering back to the ground. The climbing wall is 10 metres high and located on the side the High Rope tower, it has four routes and uses two separate auto-belay systems to ensure that climbers are always safe.
Occasionally the climbing wall will open separately for juniors. The climbing wall runs throughout the day as mini sessions.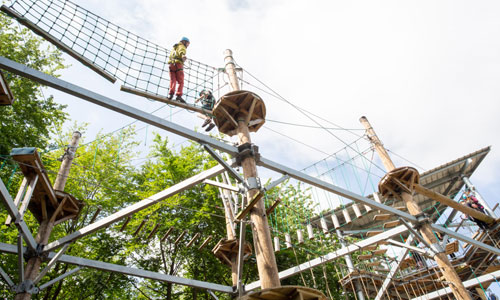 Tree course
Set off on a journey through the Town Park woods… at squirrel height! Choose your own route and the ropes course challenges you want to tackle; some get you going, some get you thinking – balance, reach and pull your way from tree to tree. Platforms give you a chance to rest and experience the woods from up high. This rope course will take you to up to four metres high in and amongst the trees and is perfect for visitors who would like to build up to the higher rope course. Contains 18 elements.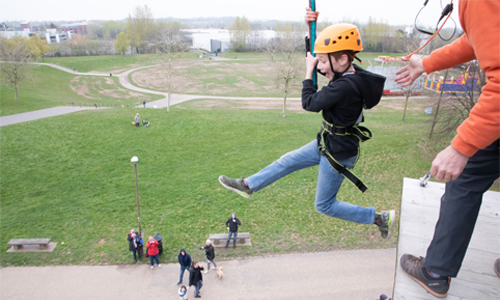 Quick jump
Optional: One brave step and you are airborne! Experience the sensation of free falling through the air and adrenaline surging from head to toe. The Quick jump descender will slow you down at the last minute and land you safely on the ground.
The quick jump runs throughout the day as mini sessions.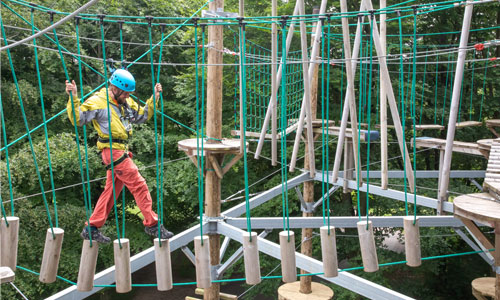 Skyline course
Reach for the sky and set your sights on the Telford Town Park skyline as you leap and stretch across each challenge and experience a daring adventure. Are you ready? This activity requires some serious squirrel balance, physical skill and nerve! Built high up on wooden poles this ropes course has 12 obstacles at an incredible height of 11 metres. Don't look down!
Opening times
Saturday 10.30am - 5pm
Sunday 10.30am - 5pm
Sky Reach High Ropes will open from 6 April 2019 to the 3 November 2019 at weekends and during school holidays (Monday to Friday) at the above times.